Ord is a dragon from Dragon Tales and played by Ty Ollson.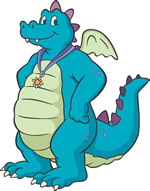 Ord wears a sun badge to help him protect from the dark whenever it shine.

Zak, voiced by Jason Michas, is Wheezie's
brother.
Wheezie, voiced by Kathleen Barr, is Zak's sister.
They always work together whenever their badge glows.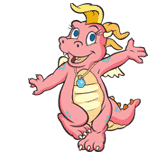 Cassie is voiced by Chantal Strand.
She always learns something new, or learning a new lesson whenever its bagde glows.