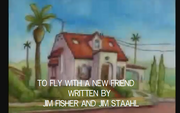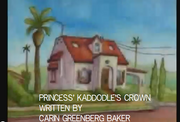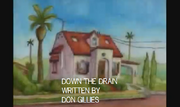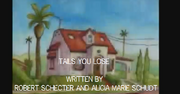 To Fly With A New Friend is written by partners Jim Fisher and Jim Staahl.
Princess Kadoodle's Crown is written by Carin Greenberg Baker.
Down the Drain is written by Don Gillies.
Tails You Lose is written by partners Robert Schecter and Alicia Marie Schudt.
In To Fly With A New Friend, Emmy and Max met Enrique who moved into town. All three went to Dragonland. Emmy introduced Ord to Enrique but scarcely ran away from him. Cassie scares Enrique. He met Zak and Wheezie, the two-headed dragons.
He met Quetzal (voiced by Eli Gabay). When he hands him the fish bowl with the fish, the couple went to the Dragonland Aquarium.
The second half is when the fish swims into the fish tank to meet other fish. Emmy, Max, and Enrique was going to go home to return to their playroom. When they're back, Enrique wishes to go back to Dragonland.
In Princess Kadoodle's Crown, it's a very windy day and the two are going to Dragonland to celebrate Princess Kadoodle. Like their hometown, it's a blustery day in Dragonland when Max and Emmy arrive. Cassie gets blown away with the picnic blanket and Ord, Zak, and Wheezie. The two set off on their journey on that very windy day. Ord is scared that thunder was coming. But he could hear nutcrackers booming their drums.
Zak and Wheezie got to the royal party by knuckerhole and the couple said the special message. Princess Kadoodle caught the crown and the two went home.
In Down the Drain, Emmy and Max with Enrique were going to Dragonland to sail with Captain Scallywag. Instead, when they got to Dragonland, water drained out and the beavers help put water back to their original places. The two went home.
In Tails You Lose, Emmy lost the soccer game and never wants to play. But instead the two got to Dragonland to play Freeze Dance. Emmy lost the game and went home. She drew a picture of her and Max playing Freeze Dance. She returns with Quetzal telling him that is a stupid game and freeze dance is dumb. Emmy tries to freeze in the next game, but tricking to get home. Then, Emmy and Max went back to their playroom.